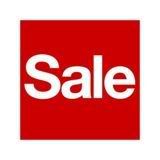 Everyone loves a bargain don't they - the feeling of getting one up on the retailer when buying something you've wanted for ages can't be beaten, can it?
Thing is, it's not always how it works in the sales. I can only remember one 'bargain' in the last 5 years - a Junk DeLuxe cashmere sweater for £20 that I've worn a grand total of, er, once. That's how things work in the sales though - the prices drop and all of a sudden we rush in like rats fleeing from a sinking ship.
"Up to 70% off!!!", "Bargains!!!", "1-day 50% special" are the kind of things we're used to seeing this time of year. But of all the purchases in this period, how much do people actually
want
? We're a nation obsessed with a bargain, and live in a world where price is king amongst all it's subjects.
Case in point - the Next sale. Never before have I seen such an abhorrent display of the worst side of human nature as when those red posters go up. I've literally seen people
fighting
over underpriced tat - it's like the bastard offspring of a jumble sale and a Nato food dump in Basra, multiplied by a hundred with an LSD-laced amphetamine haze thrown in for free.
These sales go against all principles of shopping. The relaxed environment is non-existent, you can't try anything on, and there is no aspiration to a purchase - your selection is restricted to one area, the stuff that
nobody else wanted
over the last 12 months.
I discussed this at length with friends who are, for reasons unbeknown to sanity, fans of these events.
Idiot:
"It's great - I got all this stuff for £200!!!"
Me:
So, would you have
worn
any of this if it were full price?
Idiot:
"Oh, god no..."
Me:
(Proceeds to smash head against table until a bloody mush in despair at what the world is coming to)
There's no logic to it is there? People are spending considerable sums of money on utter shyte that they would never even
consider
paying full price for. If that's the case, why not spend £200 on 1 or 2 items that you absolutely
love
, rather than purchasing utter crap on the sole basis that it's cheap?
The shops may as well be hanging out signs saying "Our purchasers f*cked up - please help us shift this stuff!". The January sales have become an annual event representing nothing more than an unashamed celebration by the retailers of their own personal failure. "Biggest Ever Sale!" may as well read "Biggest Ever Ballsup!". Yet we still can't see through it.
The truth is it's all about simple psychology. In a sale, people never see the purchase price - they always focus on the saving.
"Look how much I've saved - this is a
bargain
!!!
. They fail to consider the fact that they would never have
intended
to purchase it in the first place, and the more damning fact that the bastard retailers are overcharging so much that they can afford to sell at this price and still draw a profit.
It will never happen, but I can only hope that for one year at least that people see through this piss-streak of a marketing facade. Boycott the sales - you don't really
need
any of that stuff, do you? If you wanted it that much you'd have paid full-price and be happy.
Fair enough - there are cases where people can't afford things until it becomes a sale item. I can accept this as their aspiration is clear - they
want
the item, yet can't afford it. But this is the exception rather than the rule.
Think about it - how many things have you
ever
bought in a sale that you would even consider or
want
at the original purchase price? I can't think of a single 'Sale' purchase that has ever been so much as a fleeting consideration in a non-sale environment.
Don't let price be your marker in the murky world of consumerism - if price is your aspiration rather than the item itself, you'll never be comfortable with a purchase.